AOC's Met Gala Controversy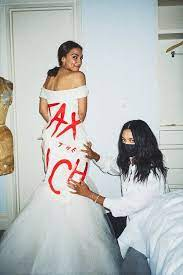 This year's Met Gala featured certain standout celebrities that outshone the rest. This year's dress code was "American Independence." This theme is particularly evident in politician Alexandria Ocasio-Cortez's Met Gala Dress. Cortez wore a Brother Vellies ivory wool jacket dress. However, it was the writing on the dress that read "Tax the Rich," written in big bold red letters, that caused controversy.
While the statement itself is a reputable argument, AOC decided to make that statement at an event where tickets cost $35,000. Right away, politicians left and right-wing began to criticize AOC for this ironic fashion statement. Of course, Republicans used this as a way to criticize her and her progressive movement. Donald Trump Jr. called her a fraud on Twitter and accused her of associating herself with "left-wing" elites. Even Brianna Gray, a former employee from Bernie Sanders' campaign, said that people expected better from AOC. Gray and other Socialists claimed they were disappointed in AOC for not doing enough for the working people of the United States. And while it may have not been the best decision for her to attend the Met Gala with that dress, AOC is still a consistent advocate for social change. When a $484 billion dollar relief package was introduced in congress, AOC was the only Democrat who opposed it. She believed that the package would give too much money to big corporations instead of the working people of the United States.
On the other side, defending AOC, was Brother Vellies' creative director Aurora James, who revealed that the dress was created to bring attention to the cause. Specifically, the dress attempted to garner attention from people who have better economic morals. These celebrities, James claims, would be more willing to help.
And while I agree that AOC's fashion statement at the Met Gala was hypocritical, it would be wrong of me to assume AOC no longer cares about her cause. It is important to call out politicians for their mistakes, even if they are extremely popular.
https://www.nytimes.com/2021/09/15/style/aoc-met-gala-dress.html