Fall Sports at BT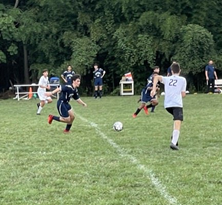 The fall sports season began at BT with great happiness. With this being the first real fall season in two years, athletes and coaches were eager to get back on the field.
Boys Varsity Soccer defeated Pikesville High School 5-4 but unfortunately lost to Mt. Airy 3-1.Daniel Melamed 2023' exclaimed, "it's just the start of the season and we still have work to do but overall we have a good team." Daniel also emphasized good coaching. The team also suffered many injuries prior to the season so once those players are back and healthy we will get to see the team at full strength.
Boys JV soccer started out slow with two scrimmage losses, but the team is showing promise for the future with basically their whole team being freshmen and sophomores.
Girls Varsity soccer has started out strong with wins against both Friends JV 12-0 and Jemicy Varsity 7-2. Hopefully, they can keep up the good work and make a strong push to win the championship!
Girls Varsity Volleyball lost both of their scrimmages against Catholic High School and Roland Park. Despite the losses, Kira Diamond '23 says, "We do the best for ourselves and our team and we lift each other up."
Girls JV volleyball, unfortunately, lost both of their scrimmages against Catholic High and Roland Park. Hopefully, they will pick it up when the regular season starts.
Girls Varsity tennis won scrimmages against St. Pauls and Park, unfortunately losing against Garrison Forest. A good start to the season for a promising team.
Boys Cross Country has had good practices so far. The team has been working hard despite all the holidays disrupting the practice schedule. As a member myself, I think this team has a lot of potential for this season. Watching these runners progress gives me a lot of hope for future seasons since our team is mostly juniors and sophomores. The team's first meet will be later this month when we will get to see the team in action for the first time!
Girls Cross country has also had great practices this far, with their first meet coming later next week. Can't wait to see them in action!
We can't wait to see what the season will bring and to see all of our teams improve throughout (and hopefully get some wins!).