Meet Our New Vice President: Tal S. '22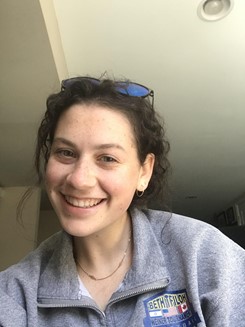 As we approach the end of the school year and the seniors start to say goodbye, we need a new group of incredible student leaders to represent us in student government. Tal S '22 is ready to take on the challenge as our new vice president.
As vice president, Tal helps club heads and works closely with the grade representatives and the president. Along with planning events for the school and assisting the rest of the student government, Tal hopes to encourage clubs to become more active during these challenging times. While some clubs have stayed strong throughout this year and persisted through the challenges of Covid, others have found it hard to continue with the added social distancing and Zoom difficulties. Therefore, Tal is making it her priority to plan a club fair to "get clubs back involved at BT."
Prior to her role as vice president, Tal was her grade's representative for their ninth and tenth-grade year. She "felt like [she] was really making a difference…and brought a lot to the table." Tal is very excited to continue making a difference in this new capacity.
In addition to student government, Tal enjoys playing softball and tennis at school. She is also on the Volunteers Affairs Committee for Chai Lifeline and is also a member of Baltimore NCSY. Through Chai Lifeline, Tal has built a passion for volunteering and helping others that she hopes will carry into her future endeavors. Furthermore, Tal feels that "a stable mental health" is important for students and wants "to make sure everyone is happy."
While BT has done a great job during these difficult times, Tal knows that we are not yet back to the way things were prior to the pandemic. Along with the rest of the student government, Tal plans to "change BT and helps us bounce back after such a horrible year."
The main three goals of the new student government are "reviving BT's neshama, making everyone feel included and bringing happiness back into the halls," according to Tal S. '22. These goals will not be achieved right away, however with daily dad jokes and treats on Rosh Chodesh already put in place, the new student government is already well on its way to making next year the best school year ever.