Student Spotlight: Cards For Humanity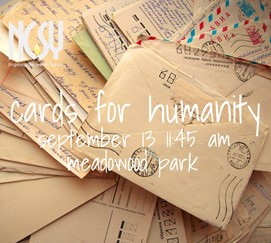 Amidst March 2021, it is a good time to reflect on the crazy year that we have endured. It is hard to believe that a year has passed since Coronavirus took over the world. While it is easy to think of the things that changed for the worse, BT students attempted to make changes for the better over the last year as well.
When the pandemic started and things began shutting down, Jenna F. '21 and Alexis S. '21 realized they needed to do something. They thought that people in assisted living homes might feel lonely due to isolation from the outside world. The two seniors partnered with Baltimore NCSY  to create a program where high schoolers could write letters to senior citizens, hoping it would bring smiles to their faces. This program was named Cards For Humanity. What would the high schoolers get out of this? Well, community service hours, but more importantly, the chance to do something good for people in the community.
The teenagers met every other Sunday at Meadowood Park to write beautiful letters while enjoying treats provided by NCSY, a Jewish youth organization. After each teen wrote and decorated their letters, Jenna F. '21 and Alexis S. '21 collected them and chose a few special assisted living places to send them. The senior citizens were very thankful.
This is an amazing example of students who seized an opportunity to do good for the community. If you know someone who you feel should be spotlighted in the newspaper, contact Shira K. '22.