Teacher Spotlight: Dr. Scheffer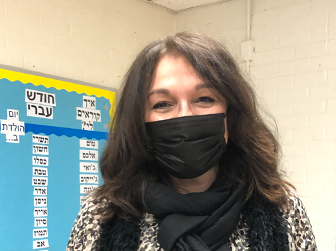 In her five years teaching at Beth Tfiloh, Dr. Scheffer has gained a reputation as the tough yet generous teacher that students adore. Her devotion and genuine passion for her subject is obvious in her teaching and her obsession with animals bonds her to her students. Between lessons, we've all undoubtedly heard about her pets (dog Pancake, cats Snickers and Mo) and her and her husband's love story (They got married after only three weeks of dating. She calls it "Love at first sight") Her classes are far more collaborative than lectures which, while unusual for a science class, effectively keeps her students interested. 
      Dr. Scheffer possesses not only one, but two PhDs. She received her first PhD in physics and used it to help develop an atomic force microscope, one of only two in existence. Following the project's closure, she searched for a project of her own to spearhead. Dr. Scheffer then received a PhD in chemistry and went on to create antibodies used to target structured ordered domains in the plasma membrane (I would attempt to explain this, but I'd probably butcher it.) She made huge contributions to her field before deciding to move on to education. For Dr. Scheffer, teaching began as a challenge and turned into her passion. "I never saw myself as a teacher, now I don't see myself as something else," she says.
      Dr. Sheffer's entire philosophy of teaching emphasizes that a teacher should help you succeed. She understands that learning is not about beating students into submission or trying to trick them, but rather to encourage them to genuinely understand the information and give them the tools to think. In regards to Advanced Placement courses, it's common knowledge that AP Chemistry and AP Physics are the hardest courses the school offers. She acknowledges this, saying that she always tries her best to make them manageable. She describes her overall feelings about the College Board and the AP system as "somewhere between Mr. Bosley and Mr. Bruner." Although the system had its flaws and mistakes, it is a top-level way of teaching that emphasizes critical thinking. It allows her AP students to focus on big concepts rather than only do the plug and chug method. 
       I hope this article shed some light on one of BT's best teachers. If you would like to see a profile on a certain teacher for the next Teacher Profile, please leave a comment under this article or reach out to anyone in the newspaper staff.