Beth Tfiloh Teachers Receive COVID Vaccine
Beth Tfiloh teachers help our community become safer by getting the COVID- 19 vaccine.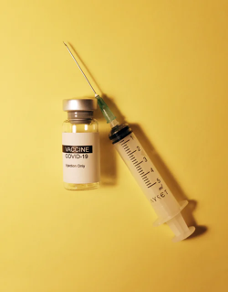 The Maryland Department of Health began administering vaccines to all members of phase 1B on January 18th, 2021. This allows teachers to receive the COVID-19 vaccine. This COVID-19 vaccine has helped many people in the world be at much less of a risk to contract COVID. With the new vaccine established, Beth Tfiloh teachers have received the vaccine in the last few weeks.
Recently, Rabbi Richter, a Judaics teacher at Beth Tfiloh received both doses of the vaccine. He described,"The process was smooth but nothing like any prior medical procedure." He also added that it "felt a bit like getting a driver's license" because he had to prove his eligibility and identity after waiting in several lines.
In addition to his teaching position, Rabbi Richter is a licensed mental health provider, therefore, he was in the group 1A in Maryland to receive the vaccine. When asked to express his feelings about this experience, he said he "felt very blessed…and…excited knowing that we were starting to actively turn the corner and begin to see the light at the end of the tunnel." After receiving the vaccine, Rabbi Richter reflected that he chose not to recite a traditional blessing, but instead expressed "gratitude to HaShem before getting the shot" and noted that he" continue[s] to do so in [his] daily prayers."
Another Beth Tfiloh teacher, Dr. Raphael shared that she is"100% confident that getting the vaccine is the right thing to do." She expanded by saying that "the more people who get vaccinated as soon as possible, the sooner we can return to living more social lives and feeling safe." Also, Dr. Raphael explained that she was feeling very anxious before receiving her first dose of the vaccine, but still wanted to "get it as quickly as possible." Since receiving the first dose, Dr. Raphael noted that she has been living even more cautiously as she wants to protect herself from contracting COVID before she was fully vaccinated. Dr. Raphael emphasized that to become infected at this point would be "like getting killed in a war just before the peace treaty was signed."
Many people have been worried about possible side effects. Dr. Raphael and Rabbi Richter both agree that after the first dose, their only side effect was arm soreness. However, for the second dose, Rabbi Richter emphasized that he felt sick the next day and that there were other mild side effects. Dr. Raphael was also very concerned about the side effects from the second dose of the vaccine. Even with side effects, it is still key to society to receive each dose of the vaccine.
These Beth Tfiloh teachers' experiences highlight the importance of all people taking the vaccine when it is their opportunity. This could be the path towards ending the pandemic if we all play our part. These teachers set an example for all of us to follow.