What Biden Has Done in His First Weeks of Presidency
A list of accomplishments from President Joe Biden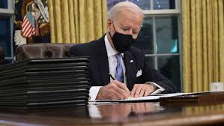 Reversed the Muslim Ban- Biden made a proclamation that reversed the barred entry of immigrants from seven predominantly Muslim countries.
Mask Requirements- Although unable to enforce a nationwide mask mandate, President Biden enforced mask-wearing on any federal property, and all public transportation, including planes, buses, and airports.
2015 Paris Agreement- After being inaugurated, President Biden rejoined the Paris Agreement that former President Donald Trump withdrew from in an effort to combat climate change.
Revoking Military Ban- After Trump's memorandum that banned transgender individuals from joining the military, many were outraged. On his sixth day in office, Joe Biden reversed this ban, allowing anyone to serve in the United States Army, regardless of their gender identity.
Inclusion in the Census- undocumented immigrants will now be included in the United States Census thanks to Joe Biden's executive order. In 2020, Trump refused to allow undocumented immigrants to be included in the census.
Federal Nondiscrimination Protections- Joe Biden made an executive order that prohibits discrimination in federal agencies on the basis of gender identity, sexual orientation, and gender expression.
The "wall"- On his first day of presidency, Joe Biden ended all funds that went towards the construction of the wall along the southern border.
Unemployment Insurance- Due to the pandemic, many citizens are worried about acquiring jobs that may jeopardize their health. Knowing this, Joe Biden requested that the Department of Labor make new rules that give people the right to refuse employment over the fear of their health, ensuring the right to unemployment insurance if they choose to refuse.
 Council of Advisors on Science and Technology- President Biden will be re-establishing this council to advise him on information about science and technology on various issues including the economy, environment, and public health.
Pandemic Testing Board- Recently, President Biden established the pandemic testing board. This will coordinate efforts for Coronavirus testing as well as help distribute free COvid-19 tests to those without proper health insurance.
These are just a few of many things President Joe Biden has done in his first few weeks as President of the United States. To stay updated, follow Biden's POTUS account on Instagram. There, he posts updates about what he has done for the country as well as what he is planning to do. Also, use multiple news resources to keep yourself further updated on the recent changes to the country.