Plans for Broadway in 2021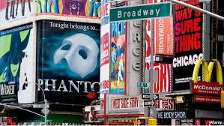 This past year, the Coronavirus forced the shutdown of all Broadway productions. Multiple times, Broadway may have opened again but neglected to do so. Therefore, you may ask, what is the plan for this year and how will the reopening process occur?
While changing their plans throughout the year, the hope this year is for New York's governor, Andrew Cuomo to allow Broadway to resume this fall. With the vaccine's distribution, the likelihood of reopening becomes more probable. However, if Broadway opened in the fall, only a few shows would initially open. This is mainly because choreographers and directors work on multiple shows at once, consequently, renewing more shows at once would prove difficult during this time. Additionally, when Broadway finalizes the date for reopening, only select producers and directors will have the ability to fully operate an entire show on Broadway. Kevin Davenport, a producer for the musicals, Spring Awakening and Once on This Island, believes Disney shows will be the first shows to reopen on Broadway this year. 
So, who believes there will be an opportunity to reopen Broadway? Well, Dr. Anthony Faucci, the director of the National Institute of Allergy and Infectious Diseases,   believes that reopening Broadway in the fall is possible. As long as the vaccine proves to be effective, theaters should be safe to open again. In a conference call, Dr. Faucci stated that theaters with sufficient air filters could begin with no restrictions, other than wearing masks of course. Eventually, he claimed, that theaters could surprisingly once again seat people at full capacity.  
  Even with all this talk, fall is a long time from now. Thus, questions regarding broadway currently may arise. On January 1st, there was an online performance of "Ratatouille: The TikTok Musical." The money earned from this performance which added to over one million dollars went to The Actor's Fund. The Actors Fund's mission is intended to help struggling actors. This money specifically went to those actors hurting financially as a result of the pandemic. Broadway actors are also prioritized for the new episodes of the NBC show "Law and Order: SVU." The producers decided they wanted to cast as many Broadway actors as they could when possible to provide financial support and acting exposure.
With everything going on this year, we can hopefully anticipate the reopening of live theater within this year. Doing so may bring some normalcy into the country.