Snow Days at Beth Tfiloh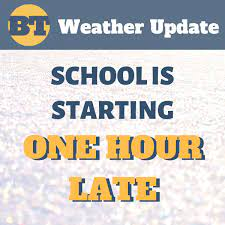 Now that schools have virtual options, snow days have become a big discussion. Specifically, it has been discussed whether or not virtual days will replace snow days. I interviewed some high school students, administrators, and teachers to see what they thought about this new idea. High School principal, Dr. Koplon, reassures that, "We are still going to have snow days." She does say however, "that if we are out for multiple days, we will do some virtual work too." As students, we feel a sense of excitement when we know a snow day is approaching and Dr. Koplon agrees stating, "There's just something exciting about having a snow day and we don't want to take that away."  
     Four rabbis whom I interviewed all agreed with Dr. Koplon, however, for different reasons. Rabbi Steinberg says that on snow days it is "crucial for people to be able to help others shovel their driveways" and to be available to shop or get food for those who don't want to drive in the snow.  
     Rabbi Richter provides a different perspective to this situation. He says that "this only happens in Baltimore. Everywhere else when it snows even up to a foot, they still have in-person school, but in Baltimore, even if it snows like three or four inches, we have snow days." He also says that if there are two or more snow days per month, there should be virtual school, regardless of whether they are consecutive or not. 
     Daniel M. '24 says that "they should just cancel school all together." He explains that teachers will have to readjust their schedules to teach on zoom. Noam E. '24 disagrees with Daniel saying how, "after a day or two there should be zoom but definitely on the first day there shouldn't be school." Another reason Noam mentions for not having snow days is that "we will be missing too much work that we will need to catch up on once we are back and we don't want to have to extend the school year later." 
     Yoni B. '24 says that, "there shouldn't be snow days. Teachers shouldn't have to adjust their schedules and anyway, we have snow days built into the schedule so we shouldn't have to adjust to virtual school just for a day or two." 
     Personally, I think there should be snow days, but I also agree with Rabbi Richter that in Baltimore, people should be brave and drive to school, unless the conditions are really unsafe. Regardless of the repercussions, the satisfaction of waking up and realizing I have a snow day is unmatched.  
     Beth Tfiloh students (of whom I interviewed about 30) seem pretty united in their beliefs that there should still be snow days. Nonetheless, some see past that and say that it isn't worth giving up days when we can just do a little work at home, and it still be considered a day of school, thus not causing conflict at the end of the year and needing to add days in June.