Should Teachers Alleviate The Workload Amidst College Applications?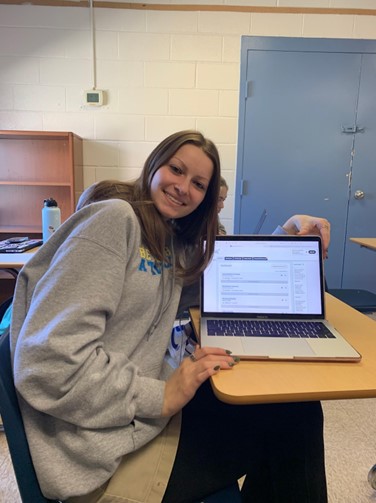 College applications are a stressful time for seniors, and this stress is not alleviated by schoolwork and extracurricular activities. While learning is essential, students agree that something must be done to ease their workload amidst college application season.
      When speaking to Lindsay B. '23, she explained that college applications have "hindered [her] ability to do schoolwork." She feels that teachers don't take into account the extra work that working on college applications entails. Managing both duties simultaneously was especially difficult as the November 1st (Early Action) deadline approached. Lindsay expressed that she had to balance submitting her applications while studying for tests and writing an essay in the same week. At some point, she worked on three essays in one night. To ease this burden, she believes there should be a "reduction of the workload in October."
     Lindsay proposed that a possible solution could be to do work in class to lessen homework after school as well as push large projects until after college applications are due. She remarked that every senior she spoke to seemed extremely stressed, not only by college but also by schoolwork since "they want to have good grades their first semester." Lindsay admitted she can procrastinate on assignments, but the amount of work did not give her the opportunity to even take a break.
     Yoni K. '23 stated it was still feasible to submit work on time but, the quality of his work worsened due to the massive amount. He complained that even when not actively working on his college applications, he was still constantly thinking about them. Yoni felt that teachers appear to "stack up [work] near the end…assuming that we would've gotten it all done." Though he believes that BT handles college applications well in a normal year, he thinks that lacking a college counselor made the process harder. He admitted he felt "very stressed" in the months leading up to submitting his applications because "it's the rest of [his] life."
    Maytal F. '23 said her college applications affected schoolwork in a "negative way" because college was the priority. Asserting that college applications "are a little bit more important than that one test we have," Maytal feels that teachers should not give too much work leading up to the deadline. She states that the point of going to high school is to get into a good college; so, if she cannot focus on her college applications because of additional schoolwork, it defeats the purpose. However, she admits that she left some of her applications until the last minute and now feels "swamped."
     When questioning Alex E. '23 about whether teachers should be more lenient regarding homework and tests, she responded with an enthusiastic "yes," repeating the word multiple times. She related that a lot of her teachers claim "that they know it's a hard time for us but they don't do anything about it." Listing the assignments in one class, she explained she had to work on her "senior thesis, college applications, honors college essays, and English essay" at the same time. After submitting applications Alex explained, "it felt like a weight lifted off [her] shoulders, like [she] could breathe again." She recommended that the school start the college application process earlier than the end of junior year to lighten the burden in senior year. 
     Hopefully, teachers listen to students' concerns during the stressful months leading up to submitting applications. Implementing the suggested measures to relieve the strenuous workload may help future seniors in their college application process.