Teacher Spotlight: Morah Zana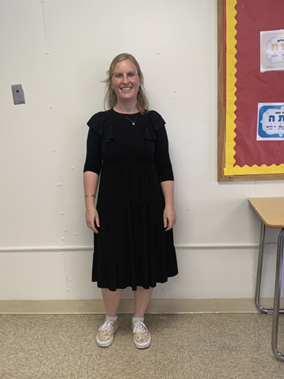 Gesturing to the gray corner couches in the Hebrew office, Morah Zana offered me a seat. She nervously explained that she's never been interviewed before. I clarified that this interview was simply for the student body to learn more about their new teachers in a way the classroom may not allow.
    Though many of our BT staff traveled to America to teach, I was curious to hear her reasoning. She told me that since she was already an American citizen, her family "decided to go on an adventure…try something else" and the U.S. proved a good option.
    However, why BT specifically? Morah Zana met Morah Cohen on FaceBook, and since she was looking for schools in the area, Morah Cohen informed her that BT had an open position for a Hebrew teacher. In Israel, she taught history, primarily regarding the Holocaust and the history of Israel; yet, the position appealed to her because BT needed a Hebrew teacher and she is fluent in both Hebrew and English. Ironically, when asked if she knew any other languages, she remarked "I don't catch languages quickly."
    As a child, Morah Zana didn't like her teachers. Though a good student, she didn't enjoy the way they taught and wanted to be the type of teacher she wished she had. Nonetheless, her career choice primarily stemmed from her sister who had a horrible experience in school and her teachers never knew how to help her. Originally, this influenced her to become a special ed teacher until her later transition to a history and Hebrew teacher.
    Outside of teaching, she loves to bake, commenting that "[her] dream is to open a patisserie." Most of all, she wants everyone to know she really likes her job, her students, and hopes for a great year together.