Behind the Washington Capitals' Successes and Struggles This Season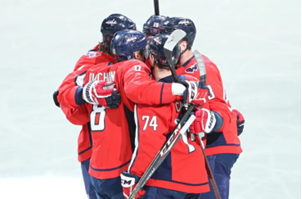 The Washington Capitals have had many winning streaks and losing streaks this season. Although playing well at the beginning of the season, they eventually had horrific months during January and February, before turning it around in March. After receiving points in eight straight games, however, the Washington Capitals went back on a two-game losing streak on March 23rd. Mr. Jacobs, of the Beth Tfiloh Jewish History department, was interviewed about the Capitals' successes and struggles this season. 
Why has the Caps' power play faltered all season coming in at just 19% as of March 23rd? Is it just that other teams figured out how to guard it or are they doing stuff wrong? 
"A power play, believe it or not, has an advantage with younger players than older players, so for the Capitals, they have really strong scorers and skaters and veterans, they've got to skate a shorter shift on the power play. They've got to get off the ice sooner so that's why their percentage is so low. You'll look at some of the younger teams who you wouldn't expect, they might not be great teams but if they've got a younger powerplay with fresher legs, they'll have a higher percentage through the season. And now, at this point of the season, these guys on the Capitals are tired, they know where they are in the season, and they've got to plan accordingly. Right now they just want to get in the playoffs, they're not interested in winning the Presidents' [trophy] or anything." 
What are the negative impacts the Capitals are dealing with of being just 47% (29th) at faceoffs as of March 23rd?  
"Faceoffs, unlike any other professional sport other than lacrosse, is everything. To have a centerman that you can rely on to win those faceoffs is one of the boxes you have to check to win the Stanley Cup. And if they're showing these signals now, and they are showing these signals now, that they don't have a consistent faceoff [player] and they also don't have a winger that they can call in case the center gets thrown out. So, it's a problem and I'm surprised that they have this problem. But again, they're an older team and that might have something to do with it. I always thought an older team would have more experienced, crafty, skillful faceoff [players] but they don't seem to have that this year. To be [47%], that's not good. But you've got to have that. Think about all the games where it's come down to that faceoff where the puck's got to get back to the defense so they can take the slap shot or wrist shot." 
What did the Capitals do to snap their 6 game home losing streak and begin to turn things around, the longest in 40 years and what were they doing wrong previously?  
"The [most important] thing they need to do is [not to] panic. They have to play their game. They are so professional that I have faith in the Capitals that they know where they are in the standings and they can turn it around in the remaining weeks by not panicking and by moving forward. You know, in the old days when the Orioles were good, they could be behind 4,5 runs in the seventh inning and they knew they were still going to win the game. And that's how I think the Capitals are right now. They know they are going to turn it on but for us fans, we wish they would do it already [and they are starting to]."  
Of course Caps fans are going to make the excuse that they haven't had their full roster healthy all season, but should this have caused such a terrible couple of months for the Caps especially after getting Nick Backstrom back? 
"Everybody who sells them short, it's a big mistake on their part. This is a savvy smart team with winners just at a different level. When you think about it, these guys are world-class hockey players that play for the Capitals and they didn't have to go to the Olympics and they're in a position they want to be to move through the rest of the season. And again, as fans, we'd like to be in the locker room listening to them figure [out] the rest of the season but I'm telling you, they're looking at this part of the schedule and probably wish they were about 8-10 points better but they're well-positioned."  
Where do you predict the Caps will finish at the end of the season and how far will they go in the playoffs? 
"Teams like the Capitals always worry me because they're like the 9-8 NFL team that makes it into the semifinals or the Superbowl. We haven't seen the best yet of the Capitals and I think they're saving it for us so I think they could make it as far as the Final Four (Eastern Conference Finals) and I don't think they care at this point where they finish in the standings but they're too dangerous a team to turn your back on. Even Tampa Bay is worried about that. If I were sitting on the bench and I looked over to the other bench, which I did for many years, you know who's on that other bench and it's in your head. So, I think we are going to see the best come out. It just has happened necessarily yet but it will. This is too good a team. Elite world-class players."