Bread Interview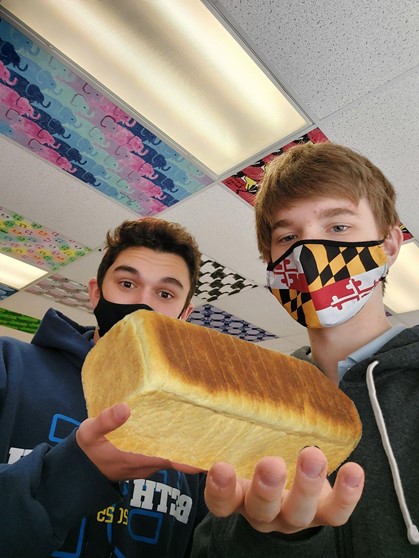 Oh, hi , I didn't see you there. Now, allow me to sit you down besides my roaring fireplace to bestow some epic wisdom upon you. As a noble writer and editor for the newspaper, I went to find answers to your burning question: What do Beth Tfiloh Dahan Community students think about bread? 
As your representative, I began by questioning our great culinary club heads, Ariella K '22 and Aaron G '22. First, I asked Aaron about his weekly bread intake. He counted about 20 slices a week, a respectable number. Nowhere near my count, of course, but respectable. Ariella eats about 13 slices a week, rookie numbers. Aaron's favorite bread is his mom's challah or an Italian white bread. Ariella's is a challah strudel. My next question is something everyone is wondering: What are their philosophical takes on bread? Aaron said that bread is the centerpiece of Shabbat and therefore Judaism. Ariella gave a simple answer, stating that bread means gathering together. I couldn't agree more.
Then, I asked our Editor in Chief, Shira K. '22 who gave rapid fire answers. She eats 10 slices, a challah, and the occasional pizza every week. Her favorite bread is French bread and seedless rye bread. To Shira, bread means freedom, in Egypt we didn't have the opportunity to have bread and she is grateful that now we are free to have as much bread as we want.
Then I asked my editor, Isabelle A. '23 for her addition. Isabelle eats bread every day and occasionally steals the sourdough bread of Lindsay B. '23. Furthermore, Isabelle enjoys the occasional bagel and croissant. Philosophically, Isabelle has a simple outlook regarding life and bread. Bread tastes good, and bread makes her happy. Her favorite bread is 100% real Russian rye bread.
Lastly, I asked the Minister of Vibe, Ahron F. '22 who is responsible for ensuring a proper vibe level during day five of bread breaking. He told me that he eats three challah rolls daily, and his favorite kind of bread is a nice piece of buttered toast with some jelly. Ahron has a very interesting philosophical take on bread, "Bread is the key to life. It has endless possibilities to fulfill the basic human needs. It's been made since the beginning of mankind and continues to sustain us to this day. Even now, we find new things to make with bread. Bread is a key factor in our evolution, even representing life itself. As a wise man once said 'Life is like a sandwich: no matter which way you flip it, the bread always comes first."
I hope you enjoyed today's article and that you took a moment, even a brief one, to think about bread. Thank you and see you next time.