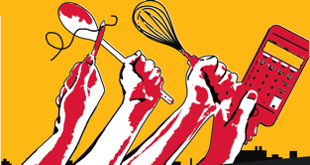 Over the years, Home Economics classes have faded from school curriculums.  In turn, this has led to a generation without basic knowledge on how to complete household chores or manage their finances. Schools rely on parents to teach these skills to their children, however, that should not be the case.
I spoke to Mr. Jacobs, and his thoughts were "that it would be great to have a Home Ec class at Beth Tfiloh because so many of us graduate and we go to college and are living in dorms or apartments for the first time. So, it gives us a better opportunity to know how to do what may seem simple…I think it would be a win-win for all of our students."
The class teaches critical thinking and teamwork just like every other class, but it also teaches other, more uncommon skills. For example,a Home Ec class would include topics like how to do taxes, cook, balance a checkbook, grocery shop, and sew.
We leave school with knowledge about history-dates and math problems, all of which are important, but do not directly influence our life unless we choose to go into its respective specialized field.  Indeed, a Home Ec class would teach skills which are applicable to everyday life for when students grow up and are confronted with the challenges of real, adult life.